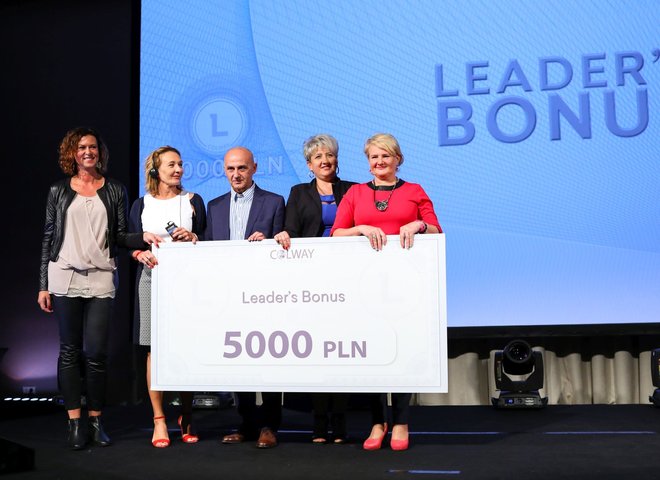 Colway International September 2016 Conference
What a day it was! What a great meeting! We hadn't had a conference so packed with exciting content since the Grand Opening. If anyone was counting on being able to take a breather and checking their smartphones, well, unfortunately they were disappointed! There was no time to be bored!
Our President Jastrzębski warmed up the conference guests with a speech about motivation and objectives. Aneta Kownacka and Monika Perdjon then proved to those present that action is not the same as thinking about action.
We recollected our inspiring journey to Lisbon, and also learned where our 2017 international stop would be: Dubai! The Board presented us with some sensational programs and new business tools. We then took time to honour those who had been promoted since the last conference, and rewarded the TOP Leaders Club with bouquets of white roses.
We heard speeches given by the Colway International Founding Fathers. An Italian representative cut the official sash, opening Colway International Italy, which assures legal business operations on the Apennine peninsula. Adriana Lenartowska introduced some new products – Baby Cream, Natural Body scrub, and Anti Age Face Cream
with a new, improved formula – in such a way that no one could doubt that the design and creation of fine cosmetics is her greatest passion!
We learned about the results of the first Wellness by Colway International pilot programme (spectacular!), as well as hearing some of the success stories from those at the top of their business game. And when the legendary Polish goalkeeper Jerzy Dudek came on stage, we didn't expect that after such a full day he'd still be able to surprise, amuse and motivate us. And yet he turned out to be an excellent orator, full of humility and self-awareness, and endowed with an extraordinary sense of humour! The way he used to hypnotize attacking players as a goalkeeper, was just the same way he mesmerized his audience from the stage. It's a great shame if you didn't hear his talk!
#HappyTogether #LiveBeautifully #ZyjPieknie #LookGood #FeelGreat #EarnMoney #NativeCollagen
Back to list